Welcome to the Art Room
Week 4/6/2020
ART lesson below is for ALL Grades
HOW TO MAKE A COLLAGRAPH with Prints
Hi STUDENTS, PARENTS & FRIENDS
Let's Try this!
We will take a break from our Art History and Technique Lessons
and trade them in this week for something a little extra creative and FUN.
The younger students may need assistance with the scissors or they may be able to tear paper.
The older students may want to customize and cut more intricate designs!
(Take your time. A new project will be posted on 4/20/2020.)
Read all information and instructions below before you begin.
HAVE FUN! 🙂
How to make a Collagraph
A Collagraph is a form of printmaking from plates made from materials which can be
cut and glued together.
Collagraph refers to a combination of relief and print made on any flat
surface using different textures.
YOU WILL NEED:
Any type of cardboard or card stock (Cereal boxes, pasta boxes, construction paper)
Scissors
glue
crayons (old crayons without paper label work best)
Copy paper or loose leaf
SOME TIPS:
Use cardboard boxes to create a collagraph.
Cut shapes and paste together.
Allow glue to dry before you rub your print.
*Place paper ON TOP of cardboard.
Use crayons to make "prints" of your collagraph!
Step 1: make your "plate"
Cut cardboard or layer paper shapes to make a design/ scene of your choice
Think about the following :
SHAPES, TEXTURE & THEME :
[Portrait/faces : family, characters, robots, aliens, pirates]
[Landscapes/places: under the sea, night/day, city skyline]
[Holidays: easter eggs, american flag]
[ART History : Mona Lisa, Starry Night, Greek architecture ]
Step 2: Rub your print with crayons
Place paper on TOP of cardboard
use side of crayon to do "rubbing"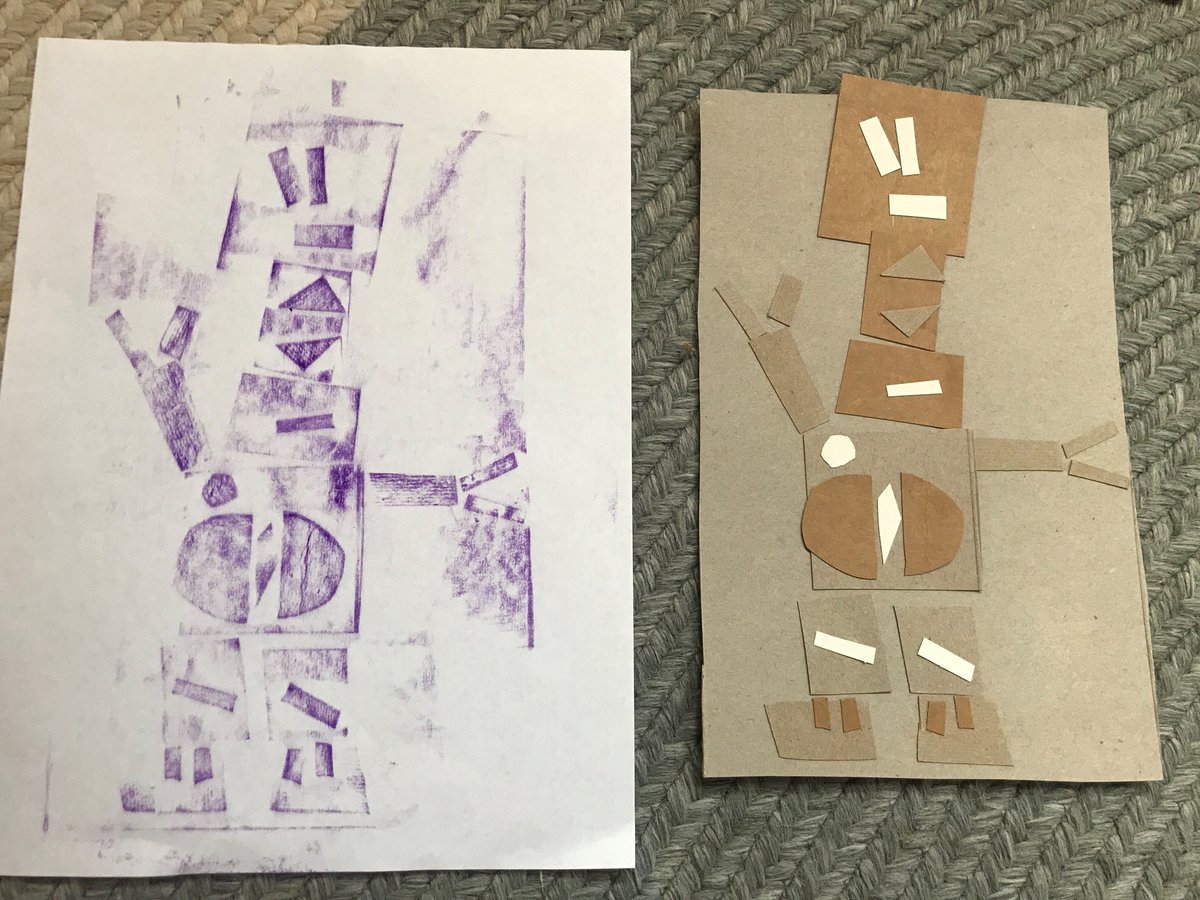 Watch this 5 minute video below to help you!
Art with Trista
Recycled cardboard collagraph
https://www.youtube.com/watch?v=BDqLRYwVH8Y